Check out the new MinnowBoard.org website for the most up-to-date information on the MinnowBoard Turbot and the MinnowBoard.org Community.
MinnowBoard
From MinnowBoard Wiki
The original MinnowBoard is no longer sold and was replaced by the MinnowBoard MAX in July 2014. The following information is for the original MinnowBoard (V1) exclusively, and does not reflect any technical features of the MinnowBoard MAX.
Technical Specs
Category
Feature
Notes
Core Logic
Processor
Intel® Atom™ E640 (1GHz, 32bit) ( datasheet )
EG20T Intel® Platform Controller Hub ( datasheet )
Integrated Intel® Graphics Media Accelerator (GMA) 600
Memory
1 GB DDR2 RAM
System Memory
4 MB SPI Flash
System Firmware Memory
Video
Integrated GMA 600 (EMGD)
SDVO to DVI (over HDMI connector)
Audio
Analog
1/8 inch jack line Input and Output
I/O
1 - Micro SD
SDIO (0)
1 - SATA2 3Gb/sec
SATA (0)
2 - USB (host)
Ports 0 & 1
1 - USB-B (device)
Micro USB-B connector
1 - Serial debug
Serial (UART 0) to USB conversion (mini-USB-B port)
10/100/1000 Ethernet
RJ-45 connector
Experimenter Features
8 - Buffered GPIO pins
2 - Experimenter GPIO controlled LEDs
4 - Experimenter GPIO switches
System Firmware Flash Programming Header
Compatible with Dedi-Prog Programmer
Board Dimensions
4.2 inches x 4.2 inches
Temperature Range
0 - 70 deg C
Contact us for industrial temp range needs
Software
All software is provided in image and Open Source form (with binary elements per IP restrictions)
Operating System
Angström Linux Distribution (Yocto Project v1.3 Compatible)
Other Software features as available
Additional Linux Operating System Distributions are under evaluation
System Boot Firmware
UEFI Firmware (Compliant to the UEFI 2.3. Specification with some 2.3.1 features) MinnowBoard UEFI Open Development Community
Visit Intel's Embedded Design Center for more specifications and documents on the Intel® Atom™ Processor E6xx Series with Intel® Platform Controller Hub EG20T.
Block Diagram: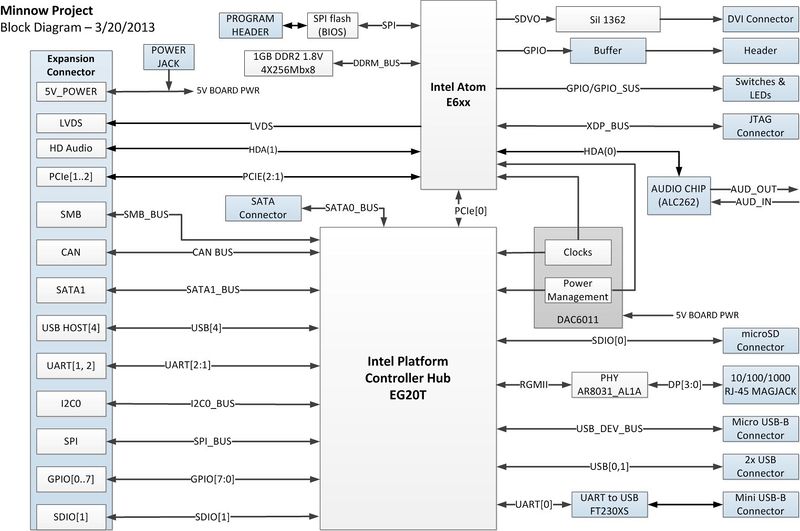 Design Files:
Here are download links for the (original) MinnowBoard design files:
MinnowBoard Getting Started Resources
NOTE: The following guides are for the MinnowBoard (v1) NOT for the MinnowBoardMax.
Here are some intro-level resources to help you learn about the (original) MinnowBoard and some things you can begin exploring with it. We also offer PDFs for convenient offline reading.
Please join our MinnowBoard email discussion list to report bugs or give us feedback. This forum is also your main source of community support for MinnowBoard.
OS Images
Specific OS Images for the MinnowBoard (v1) are available here: Os-images-v1
Firmware Images
Firmware images for the MinnowBoard (v1) are available at http://firmware.intel.com/projects/minnowboard-uefi-firmware